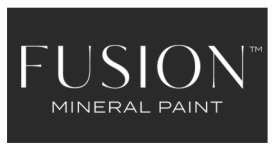 Established in 1989, Homestead House Paint Co., a local Ontario based company, began its life as a reproduction furniture manufacturer that found a need to create its own authentic milk paints to replicate beautiful old world finishes.
Recognizing a need in the market for these specialty products, they quickly expanded their paint line to offer a variety of other coatings and finishes.
These include their 100% Acrylic Exterior & Traditional Oil paints, and their newest product line Fusion™!
We at Colour Oasis are long standing dealers of specialty paints like Homestead House Paint and many of our staff members have completed numerous projects using these products ourselves.  If you need some help or guidance on to create a particular effect, feel free to ask, we would be pleased to help.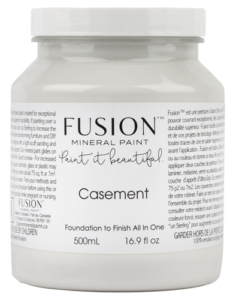 Fusion™ Mineral Paint is a professional paint for the everyday DIY'er.
With exceptional ease of application, Zero VOC formulation with high hiding coverage and a built-in top coat, it's easy to Paint it Beautiful with Fusion™! With over 50 gorgeous colours to choose from, you can tackle any project small or large!
Zero VOC
Minimal prep work
Easy application
Exceptional coverage
Gorgeous matte finish
No top coat required
For busy-DIYers, Fusion™ Mineral Paint is the only choice for exceptional colour, coverage and durability. Unlike many of their competitors, they create their paint from the pigments up, and formulate it for lasting results. Our customers return again and again because Fusion™ makes it easy to Paint it Beautiful!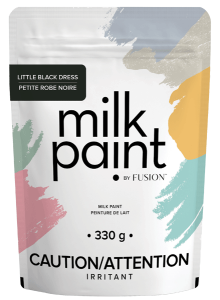 Fusion™ is flipping the perception of milk paint on its head! Introducing Milk Paint by Fusion™ – a new line of curated mix-and-go shades designed to bring an instant boost of colour to your space. Milk paint, made modern. Let us show you all the possibilities that Milk Paint has to offer, and change some of those preconceived notions you have about milk paint.
Fusion™ is smitten by colour – 25 feel-good shades inspired by the vibrant hues that make life pop – from everyday moments like the perfect almond latte to Insta-worthy travel destinations.
Fusion™ Milk Paint has perfected the ancient milk paint formula and added their own twist.
Just mix-and-go, it's easier than making your morning protein shake!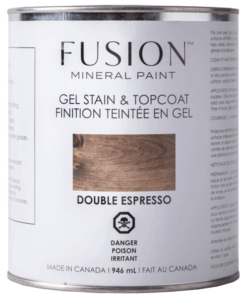 Fusion™ manufactures several different types of finishing stains for you project.
Choose from Fusion™  Stain & Finishing Oil or from their Gel Stain & Topcoat.
Fusion™ Stain & Finishing Oil is available in six colours, and is a combination of natural oils and resins that penetrate into the wood fibers to create a durable, scratch resistant and waterproof finish. It does not leave a surface film that sits on top, rather it soaks in and becomes part of your wood. It is ideal for wooden table tops as it has excellent resistance to abrasions and can be washed over and over again!
Fusion™ Gel Stain and Topcoat available in four colours and is a one step combination product which is a little bit of stain mixed into a durable topcoat. Some of the colours can be a thick gel or a thin consistency.
This product is ideal for over all types of surfaces, scratched, uneven, unstable due to chipping as with milk painted surfaces, melamine, laminate, pre-painted or stained wood surfaces. It's so versatile!
This oil based brush on gel stain produces a durable protective urethane coating with satin finish that is ideal for heavily used interior surfaces.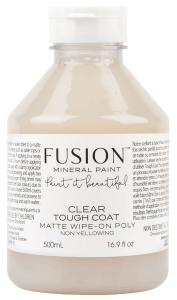 Fusion™ manufactures a variety of topcoats to finish off your project.
Choose from all natural Hemp Oil or 100% natural Beeswax, for natural finishes.
Alternatively you can opt for Fusion's Furniture Wax available in eight colours.
Use a clean cotton cloth or brush to apply wax in a thin layer, working into recesses of carved details or surface imperfections. Wipe away excess. Allow it to dry for 3-5 minutes. Buff to a shine with a clean lint-free cotton cloth.
Choose from our Black, Espresso, Clear, Liming, Ageing, for a wonderful authentically aged look, or one of the wonderful new metallic waxes – Copper, Pearl or Rose Gold!
Or add extra durability to your project with  Tough Coat™  a wipe on Polyurathane finish available in two different sheens Matte and Gloss.
Perfect for those high traffic surfaces such as table tops. Fusion™ non-yellowing water-based wipe on sealer, is easily applied with a damp lint-free cloth and dries to a matte or Glossy finish.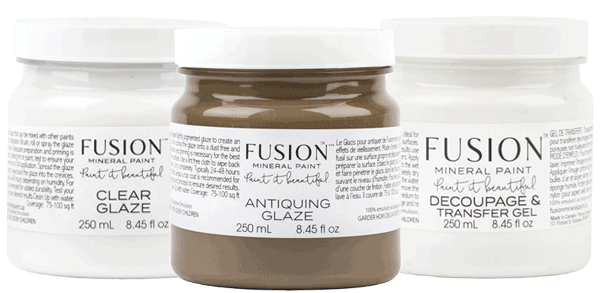 Give your piece a little something extra!
Fusion™ offers a full range of accents to achieve a range of faux finish effects.
Decoupage & Image Transfer Medium transforms your pieces with beautiful image transfers. Take any printed image and transfer it to your piece with this simple and easy to use one step medium.
Fresco adds instant texture and time worn sea swept age to your pieces! Just simply add this additive to your Fusion paint for instant texture.
Antiquing Glaze is lightly tinted to a rich brown for the perfect antiquing look and soft matte finish and delivers the performance of a professional finish that everyone can achieve!
Sand Stone Texture has a fine medium feel like stone, with a slight grit in texture replicate faux brick walls, or textured bard board with this easy to use medium.
Smooth Embossing Paste – Pearl is a gorgeous easy to use zero VOC medium is tinted an iridescent pearl. Can be pushed through stencils to create raised patterns and texture.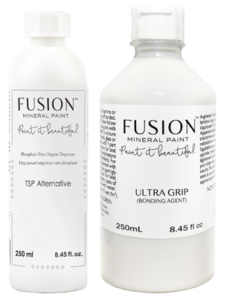 Fusion has several essential preparation products. 
These products are often some of the most important products for the least desired part of your furniture painting project.
These products are esential for a reason.
They will help clean and prepare your furniture correctly to avoid or correct possible problems on the surface you want to paint.