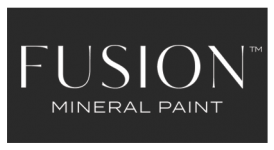 Established in 1989, Homestead House Paint Co., a local Ontario based company, began its life as a reproduction furniture manufacturer that found a need to create its own authentic milk paints to replicate beautiful old world finishes.
Recognizing a need in the market for these specialty products, they quickly expanded their paint line to offer a variety of other coatings and finishes.
These include their 100% Acrylic Exterior & Traditional Oil paints, and their newest product line Fusion™!
We at Colour Oasis are long standing dealers of specialty paints like Homestead House Paint and many of our staff members have completed numerous projects using these products ourselves.  If you need some help or guidance on to create a particular effect, feel free to ask, we would be pleased to help. 
Discover the wide variety of Fusion™ top-coats.
Fusion™ Hemp Oil & Beeswax how to tips
Fusion™ Metallic Wax Tips
Fusion™ Metallic Waxes how to tips
Fusion™ Clear Furniture Wax Tips
Fusion™ Clear Wax how to tips
Furniture Wax and Glaze Differences
Differences between Fusion™ Furniture Wax & Glaze
Fusion™ Custom Glaze Tips
Fusion™ custom glaze how to tips
Fusion™ Toughcoat Application Tips
Fusion™ Tough Coat how to tips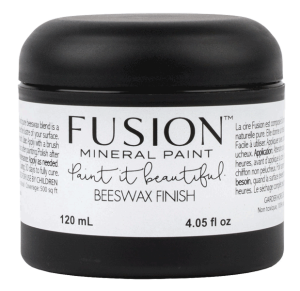 Fusion™ Beeswax Finish
Fusion™ Beeswax Finish, contains only pure natural beeswax and hemp oil. It is a food safe, all natural product, providing a soft smooth satin finish.
It will maintain that gorgeous satin lustre for a very long time!
Food Safe
No Chemicals
NO VOC's & Biodegradable.
MAINTENANCE: Apply as needed
CURING: 30 days to fully cure
Available sizes: 120ml
Can be used over the darker colours in the Fusion™ paint line to prevent any marks or finger prints. Or, apply on wooden surfaces in need of hydration.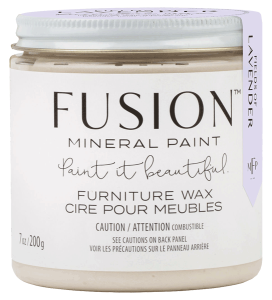 Fusion™ Furniture Wax
Our Furniture Wax is absolutely stunning to work with!
A fine museum quality wax, based on an old family recipe, goes on like butter. It is soft and smooth. Easy to apply, it provides a durable finish with a beautiful luster and has almost no odour.
As we have believed from the beginning that paint is soothing for the soul, we believe our finishing products can be too.
Enjoy our clear wax infused with 100% all natural essential oils for an added aromatherapy while you wax in two relaxing scents – Fields of Lavender and Hill's of Tuscany.
As this product contains only essential oils, the scents will diffuse quickly and is only intended to be apparent for the duration of waxing and will slowly fade away within a couple of days. These waxes will not fill the room with a strong aroma of either scent and will not yellow over time.
Choose from colours Black, Espresso, Clear, Liming, Ageing, for a wonderful authentically aged look, or one of the wonderful new metallic waxes – Copper, Pearl or Rose Gold!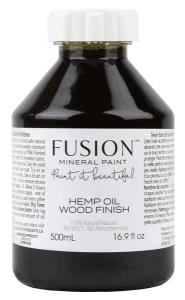 Hemp Oil Wood Finish

This all natural Hemp Oil Wood Finish is very easy to apply. Simply pour or brush on and wipe away the excess with a rag.
500 ml – Covers approximately 80 square feet
Food Safe
No Chemicals
No additives or preservatives
NO VOC's
Biodegradable
100% Natural Hemp seeds
500 ml – Covers approximately 80 square feet
Coverage will vary taking into consideration what the oil is being applied to. For example, a previously oiled surface will require very little oil, where as bare wood will require more.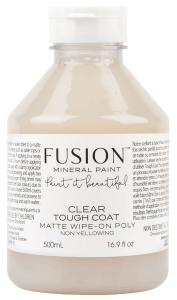 Fusion Tough Coat™
Perfect for those high traffic surfaces such as table tops.  Our non-yellowing water-based wipe on sealer, is easily applied with a damp lint-free cloth and dries to a matte finish.
500ml covers about 75 sq.ft (7m2).
Clean up is easy with soap and warm water.
Ensure the Poly is well mixed prior to use, but do not shake. If applying to a recently painted surface, allow 12-24 hours of drying time before applying. For best results, use with a damp lint free rag and apply two coats 2-4 hours apart. In humid areas, longer drying times may be required.    *** Not Recommended over medium to dark paint colours due to water vapour being trapped which could cause streaking ***   Instead use the Natural Stain and Finishing Oil over medium to darker colours for extra added durability on high traffic areas such as kitchen cabinets, table tops or flooring.
500ml covers about 75 sq.ft (7m2). Always test your methods and process to ensure best results. Clean up is easy with soap and warm water.
Available in Matte & Glossy Finishes