INSL-X AQUALOCK PLUS PRIMER SEALER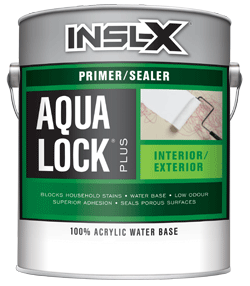 FEATURES
INSL-X Aqua Lock
®
Plus is a multi-purpose, 100% acrylic, water-based primer sealer for outstanding everyday stain blocking on a variety of surfaces. It adheres to interior and exterior surfaces and can be top coated with latex or oil-based coatings.
100% acrylic
Blocks tough stains
Provides a mold-resistant coating, including in high-humidity areas
Quick-drying
Top coat in 1 hour
View the sell sheet for more information
MORE INFORMATION
TDS/SDS
INSL-X BLOCK OUT INTERIOR PRIMER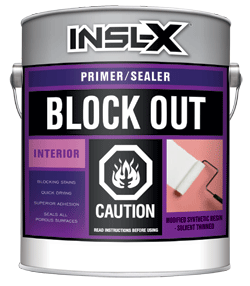 FEATURES
INSL-X Block Out® is a modified synthetic primer sealer carried in a special solvent that dries quickly and is effective over many different stains, including water, tannin, smoke, rust, pencil, ink, nicotine, and coffee. Block Out® primes, seals, protects, and can be used on bare or previously painted surfaces; interior drywall, plaster, wood, or masonry; and exterior masonry surfaces. Can be used as a spot primer for exterior wood shingles/composition siding.
Solvent-based sealer
Seals difficult stains
Quick-dry formula allows for same-day priming and top coating
Top coat with alkyd or latex paints of any sheen
MORE INFORMATION
TDS/SDS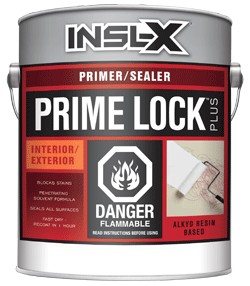 FEATURES
INSL-X Prime Lock Plus is a fast-drying alkyd resin coating that primes and seals plaster, wood, drywall, and previously painted or varnished surfaces. It ensures the paint top coat has consistent sheen and appearance (excellent enamel holdout), seals even the toughest stains without raising the wood grain, and can be top coated with any latex or alkyd finish coat. For interior use and spot priming exterior surfaces.
High-hiding, multi-purpose alkyd primer sealer
Superior adhesion to glossy surfaces
Fast-drying
Prevents bleed-through
Excellent enamel holdout
MORE INFORMATION
TDS/SDS
INSL-X SEAL LOCK PLUS PRIMER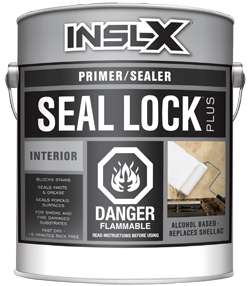 FEATURES
Seal Lock® Plus is an alcohol-based interior primer sealer that stops stains from bleeding through on plaster, wood, metal, and masonry. It helps block and lock down stains from smoke and fire damage, and is an ideal replacement for pigmented shellac. Seal Lock® Plus may be used as a primer for porous substrates or as a sealer/stain blocker.
Alternative to shellac
Seals stains from smoke, grease, and fire damage
Seals porous surfaces for a uniform finish
High alkali resistance
MORE INFORMATION
TDS/SDS
INSL-X STIX WATERBORNE BONDING PRIMER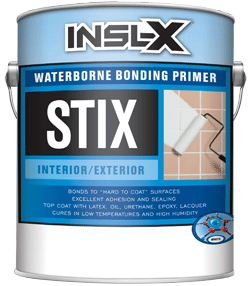 FEATURES
Premium-quality, acrylic-urethane primer with unparalleled adhesion to the most challenging surfaces, including glossy tile, PVC, vinyl, plastic, glass, glazed block, glossy paint, pre-coated siding, fiberglass, and galvanized metals.
Bonds to hard-to-coat surfaces
Cures in temperatures as low as 35°F
Creates an extremely hard film
Excellent enamel holdout
Can be top coated with almost any product
View the sell sheet for more information
MORE INFORMATION
TDS/SDS