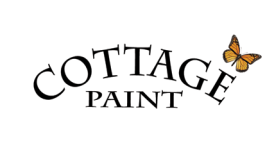 Cottage Paint Products

Cottage Paint is a local Ontario company that manufactures a wide variety of products to refinish furniture.
From their original clay based Cottage Paint to their newer Serenity Mineral based paint line Cottage Paint has the products to help you get your piece done.  
Cottage Paint also has a variety of topcoats, waxes, pastes as well as transfer gel which allows you to personalize your project.
We at Colour Oasis are long standing Cottage Paint dealers and many of our staff members have completed numerous projects ourselves.  If you need some help or guidance on to create a particular effect, feel free to ask, we would be pleased to help. 
COTTAGE PAINT CLAY BASED PAINT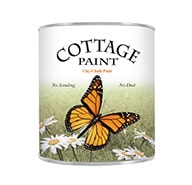 Cottage Paint is a clay chalk paint that offers an inexpensive and easy way to renew and restore your furniture so you can Re-Love it all over again.
Made with clay and chalk components, this furniture paint creates a flat chalky, aged finish. Cottage Paint has great adhesive properties and is very easy to apply. As long as the surface is clean, sealed and sound, there is NO priming, NO sanding, and NO stripping required. You can apply the paint directly over any varnished or lacquered surface.
A clear protective top coat is required. Once the desired effect is achieved, there is a wide selection of topcoats available. Painting with Cottage Paint's clay chalk paint is simple, therapeutic and rewarding.
SERENITY MINERAL BASED PAINT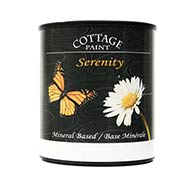 Less Shabby. More Chic!
When you're not looking for that vintage look and simply want to paint your furniture to give it a fresh new appearance, Serenity is a mineral paint that goes on clean and evenly with no extra work. Simply prep your surface, then paint. No top coat is required.
Serenity is formulated with top quality acrylic and urethane resins that cure to become a very durable surface. Serenity is available in a soft silky-smooth finish or a velvety flat finish.
There is NO sanding and NO priming required if the surface is cleaned, sealed and sound. When painting with Serenity paint, the surface dries with a built-in sealer. There is no need to worry about any additional waxes or varnishes. It's as easy as that.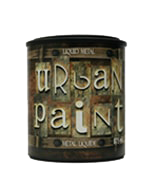 This liquid metallic paint has endless potential to add a rich or rustic element to any home decor.
Using the most modern paint technology, Urban Metal is an environmentally friendly, low VOC, hybrid emulsion made from water and plant oil.
It creates a durable metallic finish that can be applied on furniture, cabinets, walls, trim, moldings, brick, tin ceiling panels, old lamps and embossed wallpaper, just to name a few. It offers excellent adhesion and durability once cured.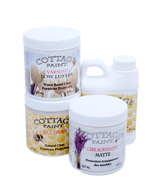 Cottage Paint offers a wide assortment of clear top coats to complete and protect your furniture project.
Their flat acrylic varnish with its ease of application and the fact that it does not emphasize the brush marks plus the speed of the dry time makes it our best-selling top coat year after year.
Cottage Paint has a top coat for everyone from hard, soft and liquid waxes to varying sheen levels of acrylic wax and varnishes.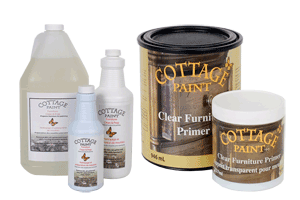 Cottage Paint has several essential preparation products. 
These products are often some of the most important products for the least desired part of your furniture painting project.
These products are called Essentials for a reason.
They will help clean and prepare your furniture correctly to avoid or correct possible problems on the surface you want to paint.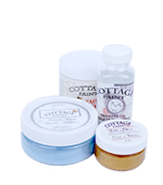 Discover our wide range of user-friendly creative products and unleash the furniture artisan in you.
Learn how to easily add a decorative or artistic component to put your personal touch on your furniture piece.