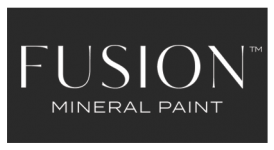 Established in 1989, Homestead House Paint Co., a local Ontario based company, began its life as a reproduction furniture manufacturer that found a need to create its own authentic milk paints to replicate beautiful old world finishes.
Recognizing a need in the market for these specialty products, they quickly expanded their paint line to offer a variety of other coatings and finishes.
These include their 100% Acrylic Exterior & Traditional Oil paints, and their newest product line Fusion™!
We at Colour Oasis are long standing dealers of specialty paints like Homestead House Paint and many of our staff members have completed numerous projects using these products ourselves.  If you need some help or guidance on to create a particular effect, feel free to ask, we would be pleased to help. 
Discover the wide variety of Fusion™ accents to achieve a variety of effects
Fusion™ Decoupage & Transfer Gel how to tips
Fusion™ How To Use Fresco
Fusion™ Fresco how to tips
Fusion™ Glaze how to tips
Fusion™ How to Embossing Paste
Fusion™ Embossing Paste how to tips
Fusion™ Custom Accent Tips
Fusion™ How to accent with wax, paint and glaze
Fusion™ Toughcoat Application Tips
Fusion™ Tough Coat wipe on poly how to tips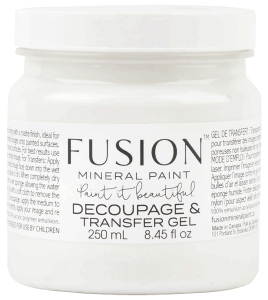 Fusion™ Decoupage & Transfer Gel

Try Fusion™ Decoupage & Transfer Gel for incredible added decor ideas!
Create beautiful decoupage or transfer images onto virtually any surface!
Decoupage onto Glass, metal, wood- you name it!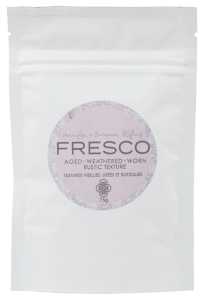 Fusion™ Fresco

All you need to achieve that rustic, worn texturized look and feel is a bit of fresco and your Fusion™ Mineral Paint hue of choice — ta-da! Sea-swept in no time.
Fresco gives you the perfect sea swept, weathered, worn and rustic texturized look. Fresco is 100% Natural and contains no VOC's. Depending on your mix and application, you will get a different end result.
Coverage:
Fusion's small package will make 1 Pint of the Sea Swept or Crackled Heavy Texture look, or 5 Pints of Flat Matte Chalky Finish.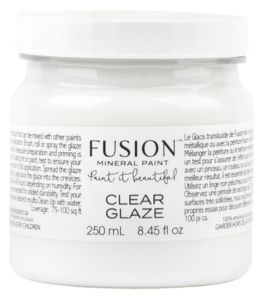 Fusion Clear Antiquing Glaze

Fusion's Antiquing Glaze is lightly tinted to a rich brown for the perfect antiquing look and soft matte finish.
With an exceptional ease of application with a long open time, Fusion's Antiquing Glaze delivers the performance of a professional finish that everyone can achieve!
Also Available as a Clear Glaze to which you can add paint or metallics to.
Wonderful for creating age or a soft look.
Over light colours, use sparingly so as not to over age your piece.
Always do a sample to ensure desired results prior to full application.
Application:
Apply sparingly with a quality brush of your choice and then wipe back with lint free cloth to achieve desired effect.
Allow the glaze to dry 12-24 hours, depending on the climate/weather/humidity prior to applying our Tough Coat™ Matte Wipe-On Poly for extra durability.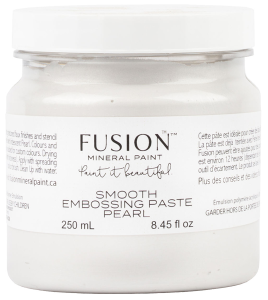 Fusion™ Embossing Paste
Can be tinted with Fusion's metallics in Copper, Pale Gold, Brushed Steel, Champagne and Bronze colours to create beautiful effects. Tinted embossing paste using Fusion's metallics will have a different kind of effect given the lighting and angles they appear under.
They can be applied by using a damp sponge, spatulas, brushed, or used with stencils.
Fusion™ Smooth Embossing Paste – Pearl is an acrylic based medium that has a thick consistency.
It is ideal to use for embossing through stencil patterns to create a raised effect. It will dry translucent with a pearl finish and can then be painted, glazed or waxed over to enhance your design.
These are great for embellishing raised areas and creating a more contemporary look.
Available in 250ml containers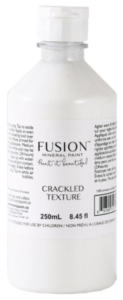 Fusion™ Crackled Texture

Get that gorgeous, aged, cracked paint look with ease using Fusion's Crackled Texture. Simply apply as a base coat, let dry, then paint over top.
Crackled Texture is made of the same high quality ingredients as Fusion Mineral Paint and will stick to almost anything Fusion does.
For larger, thicker cracks, apply a thick layer of Crackled Texture. For smaller details, brush the product into a thin layer.
Non-toxic
No VOCs
Easy to use
Exceptional coverage
Matte finish
Easy way to obtain weathered, rustic look
Does not need to be painted over
Does not need a top coat
Topcoat may be recommended if using on a high traffic high water surface such as a coffee table. Any top coat like Tough Coat or Stain & Finishing Oil can be used.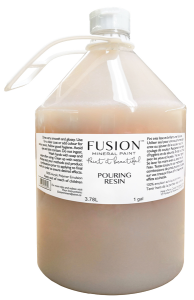 Fusion™ Pouring Resin

Fusion™ Pouring Resin is an acrylic pouring medium for creating beautiful art on canvas or wood, and dries with a glossy finish.
This Pouring Resin mixes seamlessly with Fusion to create beautiful and unique acrylic pour artwork. It can be used on canvas, furniture, or any surface that Fusion sticks to. It finishes to a very durable, glossy finish, and can even be used on its own as a finish or top coat over Fusion Mineral Paint. It can even be painted on top of for a multi-dimensional look.
Durable glossy finish
Easy to Use
No topcoat needed
Non-toxic
No VOCs
To add colour, add a couple of drops of any Fusion Mineral Paint to tint the Resin (no more than 10% paint ratio). You want to use very little paint so that products flows.
Tap the surface to settle air any bubbles.
If using Cell Enhancer, afterwards be sure to wipe those areas clean with a bit of rubbing alcohol to remove the shiny wet look.
Dry time: 8-12 hours | Re-coat time: 12-24 hours | Cure time: 21 days

Fusion™ Beeswax Distressing Block

This is a pure, 100% natural beeswax block, designed to make it super easy to create that distressed finish, so many of us love.
For exact placement of distressed lines and edges, press the wax along the edges where you would like to see the distressed antiquing effect between layers of paint.
Anything that is applied on top of the waxed areas will easily distress without too much sanding! You will notice this resist once you are giving your piece a light sanding at the end of your application of all layers of paint.
The paint underneath the wax will remain in place, and any paint applied on top of the wax will come off effortlessly, allowing for the perfect distressed look.
This is a pure, 100% natural beeswax block.