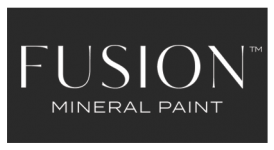 Established in 1989, Homestead House Paint Co., a local Ontario based company, began its life as a reproduction furniture manufacturer that found a need to create its own authentic milk paints to replicate beautiful old world finishes.
Recognizing a need in the market for these specialty products, they quickly expanded their paint line to offer a variety of other coatings and finishes.
These include their 100% Acrylic Exterior & Traditional Oil paints, and their newest product line Fusion™!
We at Colour Oasis are long standing dealers of specialty paints like Homestead House Paint and many of our staff members have completed numerous projects using these products ourselves.  If you need some help or guidance on to create a particular effect, feel free to ask, we would be pleased to help. 
Discover Fusion™ Finishing Stain & Finishing Oil as well as Fusion™ Brush on Gel Stain. Learn how to easily refinish your furniture piece.
Fusion™ how to use all in one stain & finishing oil
Natural Stain & Finishing Oil
Fusion™ How to use natural (Clear) stain & finishing oil
Stain & Finishing Oil Over Wood
Fusion™ How to use stain and finishing oil over paint
FUSION™ STAIN & FINISHING OIL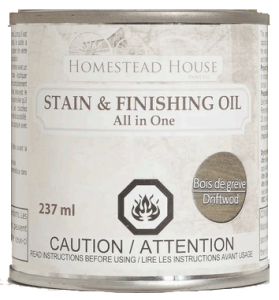 Fusion Stain & Finishing Oil
Stain & Finishing Oil

Stain & Finishing Oil All in One Wood Finish is Eco Friendly and easy to use.  This stain & top coat combo offers exceptional durability in high traffic areas like table tops, kitchen cabinets and even flooring. 
Can be used on bare wood, or over previously painted surfaces for a faux effect. Use the Natural color over Fusion Mineral Paint colors to increase the sheen and offer superior durability, please keep in mind that all oil based products typically yellow in time. Using this over top of a white paint, will cause a slight yellowing effect.
This Stain and Finishing Oil All in One is your go to solution to bare wood to show off the grain, yet change the colour to your desire. Comes in 6 gorgeous colours.
Very easy to use, low odour and Eco Friendly! Apply it with a brush, or rag, and wipe away the excess.
FUSION™ STAIN & FINISHING OIL COLOURS
FUSION™ GEL STAIN & TOPCOAT
Brush-on Gel Stain & Topcoat (Part 1)
How to use Fusion™ brush on gel stain & topcoat
Brush-on Gel Stain & Topcoat (Part 2)
How to use Fusion™ brush on gel stain & topcoat with antiquing glaze
FUSION™ GEL STAIN & TOPCOAT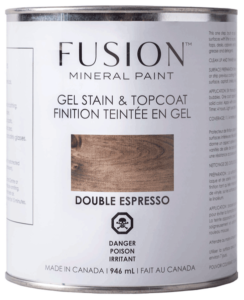 Gel Stain & Topcoat

The Gel Stain is an oil based coating available in 4 gorgeous colors . Double Espresso, Black, Greystone and Patina. It has similar characteristics to our Stain and Finishing Oil.
However with Gel Stain, it can be applied to virtually any surface with no prep ( other than cleaning off the cobwebs!) to a surface that has been previously finished, scratched, painted etc. It's a game changer!
Quick facts:
This product is a Brush On and NOT a wipe on or wipe back product
Use a natural bristle brush or a roller to apply
Dries to the touch in approximately 4 hours and can be re-coated at that time (always test for tackiness prior to recoating, if still tacky wait another couple hours and re-assess)
Has a thicker gel like consistency – each color varies. When stirred it becomes less viscous
Long open time and Self Leveling
Comes in Quart size only in 4 different colors
One Coat looks like a stain. Subsequent coats become more opaque, except for Patina which will remain transparent as it contains no pigment
Satin Finish
Available in Quarts only.
Note:
Colours accuracy: Colours shown are approximate.
The colours represented online and in Fusion's promotional materials have been rendered digitally, and may not be identical in colour when applied to your medium.
Colours have been optimized for accurate viewing across a variety of media. However, due to differences in how screens display colour, actual colour may vary. Colour may vary depending on a number of factors as well as lighting and may not be exactly as illustrated. Colour Oasis always recommends testing a sample of your chosen colour on an inconspicuous part of the project, to ensure the color meets your expectations.